Back to the Black was a phrase that was very common up to the 1970's. Bear in mind that there was no internet in those days. This meant that every month the bank would post you a bank statement. If you had overspent, you would find that the statement was printed in red ink. According to the values of the time this was quite shameful. So you had to get ' Out of the Red and Back to the black'
Being in the black was a way of life but we lost touch with it in the 1980's.
Now with the pandemic, getting out of debt is an even greater issue. That is why Back to the Black: How to get out of debt and stay out of debt is an important contribution to money education.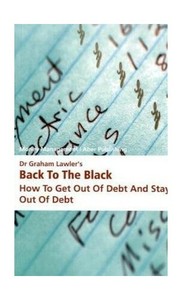 The approach is to show you how to take control of your money management. The book challenges you to take a good look at yourself and to turn debt into wealth.
Look at what people have said

david J5.0 out of 5 stars Can't put it down
Reviewed in the United Kingdom Verified PurchaseCan't put it down, third read since buying – began saving and planning for the future!!
Would recommend this book to anyone.
4.0 out of 5 stars A good grounding for planning any budget personal or business
Reviewed in the United Kingdom As a financial advisor I found this book both an easy and interesting read explaining the complicated business of planning buget in an understandable way, this not something most of us do not do at home or in business. I have purchased several copies to making these available to my staff and clients. Everyone can benefit from this book. [[ASIN:1842851411 Dr Graham Lawler's Back to the Black: How to Get Out of Debt and Stay Out of Debt
5.0 out of 5 stars Dr Graham Lawler's Back to the Black ….Reviewed in the United Kingdom I read this book and have to say that Graham Lawler's advice makes a lot of sense. What is interesting is his self effacing honesty about his previous financial situation and how he was able to turn it around .This is inspiring to to others in such a situation . Move over Alvin Hall !!
Packed with facts and interestingly written, Graham makes a difficult subject palatable and most importantly do-able 
5.0 out of 5 stars brill bookReviewed in the United Kingdom on
loved it, it has certainly helped me to get control of my finances. Highly recommended a very well thought through approach.
This system can help you clear your debt and start to build wealth.
' It is not how much you earn that makes you wealthy, it is how much you hold onto'
Invest in yourself, improve your money education and you will sleep far better. Worrying about money ages you faster than most other things, get a copy of Back to the Black here.